Yesterday I got to be a movie star. The director says I'm a natural. It comes as no surprise – my mum's been telling me I'm a born actress for years!
How did I come to be a movie star you ask? Completely by accident. A few weeks ago when we were at my brother's restaurant celebrating Maya's birthday, one of his workmates came up and asked me if I was interested in being part of a doco-film he's making. It seems waiting tables is a sideline to his real passion which is producing movies. This particular movie is about a woman on a weight loss journey, and he wanted me to play the 'before' character in some re-enactment scenes.
'So he asked you 'cause you're fat?' my sister asked. 'Weren't you offended?'. Well no, not really. In any movie, actors are cast because they suit the role of a particular character. In this case, I look like the lady whose story they're telling. And besides, it sounded like a bit of fun…
It WAS fun! But man, it was hard! Not the acting part, as I said, I've always tended towards being melodramatic, and I did speech and drama classes for about ten years when I was growing up. I just never realised quite how much is involved in shooting a single scene!
We all got up ultra-early this morning (which really means the alarm went off at 6am, I snoozed it 'til 7am and then rushed around like a headless chicken trying to get everyone out the door), I dropped Rosalia at daycare and doubled back to deliver the girls to the school gate just as it was being opened at 8.25 then headed into town. We were filming the first scenes in a function room above an Italian restaurant, and later scenes in a cafe a few doors up the road.
When I arrived it was a quick run through the plan for the day with the director over sandwiches for breakfast, then straight into the makeup chair. It's been so long since I last had my makeup done for me – I think the last time was my wedding – so that was a bit of a novelty, and while the makeup artist worked her magic on my hyperpigmentation and bushy eyebrows I chatted with the girl waiting next to me. Turns out she was playing the character I shared most of my dialogue with in the first scene and I'm glad we got a chance to break the ice as in the script she had to be a complete and utter bitch to me!
There were about nine of us in the first scene, and when we headed up to the function room, the crew were getting all the sound and lighting set up. That brought back memories of the few times I've done live TV over the years! Once they were all sorted and the cameraman was happy with how the scene looked through the lens, we started rehearsing the first part of the scene. I learned that this is called 'blocking' – making sure everyone is in the exact right places, all the lines are good to go, and the sound, lighting and camera settings are perfect. Then it was time to shoot!
Just like you see in the movies, the production assistant claps the film slate, sound and camera call ready, then the director calls ACTION! Oh boy, the pressure of having the camera zoomed in on you and desperately trying not to be the one who stuffs up the take! That first part of the scene took six takes, then the second part took eight takes. I thought that would be it but nope, then we had to reshoot the second part another three times so the camera could capture if from different angles, all the while remembering to keep the dialogue and timing exactly the same so as not to muck up the continuity when  they start splicing it all together.  The girl I was talking to in the scene (yep, that's right, the bitch) was a professional actress so I was trying not to look like a total dork novice. I did get told off for looking directly into the camera at one point – apparently that's called 'barrelling'. I thought I was going for dramatic effect but apparently it just freaks the viewers out!
That first scene, which will amount to about two minutes worth of the movie once it's edited, took all morning to shoot. By the time we were done it was lunchtime. The awesome thing about shooting upstairs from a pizzeria? Pizza for lunch! The less-awesome thing about shooting upstairs from a pizzeria? Realising after you've eaten three slices and are about to burst that the next scene requires you to eat pizza on film. I really should have thought of that and skipped lunch because by the time I'd eaten half a salad and the best part of another two slices of pizza for the scene, I was feeling quite uncomfortably full!
The final scene that I was in was in was filmed outside on the street. That posed new challenges – the sound guy struggled with the background traffic noise, the cameraman had to get creative with angling as there was a great big wall blocking him from getting into the perfect spot and we had to work around members of the public who were walking past – one of the conditions of filming in a public place is that you don't hinder other people's access. I think it took four or five takes, then we repeated the scene while the cameraman filmed from two further angles, and finally it was a wrap!
I don't know if I've got the patience for doing this kind of thing every day – it's given me a whole new respect for Angelina Jolie – which is probably just as well given that I've really got a face much better suited to radio. But it was a bit of fun, I enjoyed the chance to have actual conversation with other adults (who are not health professionals for a change!) and yes, it was a bit of an ego boost. So seeing as it's Thankful Thursday, I have to say I'm definitely thankful for the opportunity to do something a little different and see how the movie stars live for a day.
The doco-film I'm featuring in is called Steffi's Journey and it's being produced by Moneyshot Productions. I'll be in two more scenes which we'll film over the next couple of weeks, and they're expecting it to be ready to release later this year. I'll keep you posted – and of course I'm sure there will be the obligatory red carpet selfie at the premiere…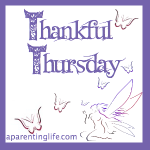 Getting thankful this Thursday with Rhianna at A Parenting Life